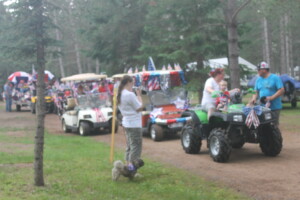 Holy cow we are almost into July already. This weekend will be jam packed with family and friends. We have had to turn down many requests for sites this holiday weekend!
Our activity schedule is unfortunately subject to change because there is a lot of uncertainty with the weather forecast. Fear not, we will have backup plans ready to roll.
Saturday, July 1st, (location tbd) we will be hosting an outdoor movie fun night. Activities will begin at dusk. Bring your own lawn chair and blanket. We will spray for bugs so we don't get carried away.
July 3rd at noon; our annual 4th of July parade. Decorate your golf carts, atv's, motorcycles or side by sides and join us at the Rec. Hall. Line up at 11:30 and be ready to leave by noon. You may bring in your atv's or side by sides at 10:00 am to decorate. Please return them to storage 1 hour after the conclusion of the parade. Please limit vehicle travel in the park during the parade. The office will be closed from 11:30 t0 1:30 for the parade. Make plans accordingly please.
July 3rd at dusk; our annual party at the pond! The main entrance will be closed and NO, yes I said NO traffic (except for emergency) will be allowed in or out of the park during the festivities. Come and enjoy the light show and patriotic music with your family and friends. (bring your own chairs)
July 8th is our annual River Regatta! Come prepared to float the lazy Moosehorn River, enjoy fresh corn on the cob and hot dogs after the float! We will be featuring live entertainment later in the afternoon with Mark Jukich and friends, then at 7:00 Showtime once again hits the stage. Two live performances in one day?? Awesome!!
July 15 is the date for this years Craft show at the Timberline Rec. Hall. Get your table reserved asap if you want to participate and show/sell your goods. Please sign the required forms at the office.
Parents, please make it known to your children there is video surveillance around the park. We have a zero tolerance policy for malicious activity and damage to our property!
Please, when your pet does a do-do, said do-do is not only to be picked up, but please be considerate and put it in a plastic bag and tie it before putting it in the trash cans!
We are looking forward to a great weekend, please do your part, music off at 11:00 pm and late night quiet campfire conversation is welcome!
Travel safe, see you soon.
Vern and Cindy